United Veterans Beacon House Receives Funding and Leadership Resources as Part of Bank's Neighborhood Builders® Program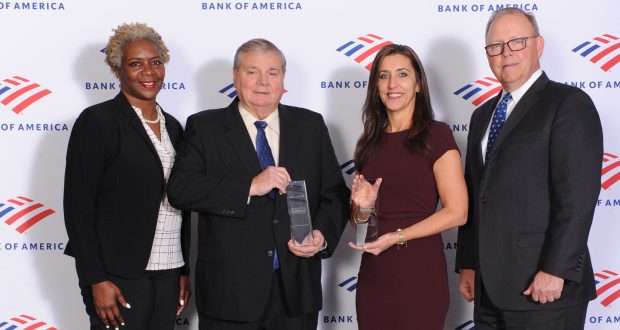 Bay Shore, New York – United Veterans Beacon House has been named one of the 2019 Bank of America Neighborhood Builders® awardees for Long Island. The Bay Shore-headquartered veterans agency is one of two non-profits selected for its work in the Long Island area to address issues fundamental to economic mobility, specifically housing for veteran and nonveteran communities, and services and support for families and people with developmental disabilities.
As an awardee, United Veterans Beacon House receives a $200,000 grant, a year of leadership training for its executive director and an emerging leader at the organization, a network of peer organizations across the U.S., and the opportunity to access capital to expand its impact. The invitation-only program is highly competitive, and leading members of the community participated in a collaborative selection process to identify this year's awardees. "I am grateful and privileged– on behalf of United Veterans Beacon House – to accept the Neighborhood Builders award from Bank of America," said Frank Amalfitano, president and CEO of United Veterans Beacon House. "This generous recognition of our work in support of veterans will go a long way in helping us to provide meaningful aid to those who've served our nation. Lighting the way toward a brighter future for veterans is what we do; Bank of America is a true and determined partner in that forever effort, and we are so thrilled that they have chosen us – as there are many worthy organizations – to work beside us in this cause." United Veterans Beacon House collaborates with other organizations to assist the veteran and homeless populations on Long Island. Some of the vital services Beacon House provides include supportive housing, emergency shelters, case management, transportation, and counseling. Beacon House provides nonveterans with housing services as well.
"Through the Neighborhood Builders Program, nonprofits have the power to grow strategically and have a precise impact on issues that uniquely face the Long Island community. Long Island is home to a large veteran population, and we're proud to award our friends at United Veterans Beacon House support for their work helping veterans and nonveterans" said Bob Isaksen, Long Island Market President, Bank of America.
Since 2005, through its Neighborhood Builders program, Bank of America has partnered with 14 nonprofits on Long Island, investing over $5.5 million dollars to provide financial education and economic mobility opportunities in local communities. Examples of the leadership training topics include human capital management, increasing financial sustainability, and storytelling.
Neighborhood Builders is just one example of how Bank of America deploys capital in communities, builds cross-sector partnerships, and promotes socioeconomic progress as part of its approach to responsible growth.
Note: Life's WORC is the other Long Island non-profit named one of Bank of America Neighborhood Builders® awardee.
United Veterans Beacon House
Since 1994, United Veterans Beacon House (a 501 (C) 3 nonprofit) has provided a safe haven to Veterans and their families. Over 24,000 individuals have benefitted from housing and specialized support services to those in need. Providing a fresh start and an opportunity for growth to those who have bravely served our country, Beacon House manages 47 residential programs throughout Nassau and Suffolk counties. Services include health care, job training and placement, and assistance with linkage to well-earned financial benefits. The organization's mission is to help veterans regain their self-worth and empower them with the tools necessary to rejoin their community as independent and productive citizens. For more information, please visit www.uvbh.com.
Bank of America
At Bank of America, we're guided by a common purpose to help make financial lives better, through the power of every connection. We're delivering on this through responsible growth with a focus on our environmental, social and governance (ESG) leadership. ESG is embedded across our eight lines of business and reflects how we help fuel the global economy, build trust and credibility, and represent a company that people want to work for, invest in and do business with. It's demonstrated in the inclusive and supportive workplace we create for our employees, the responsible products and services we offer our clients, and the impact we make around the world in helping local economies thrive. An important part of this work is forming strong partnerships with nonprofits and advocacy groups, such as community, consumer and environmental organizations, to bring together our collective networks and expertise to achieve greater impact. Learn more at about.bankofamerica.com, and connect with us on Twitter (@BofA_News).
Reporters May Contact:
Tina Sferrazza, 646.243.3240
[email protected]