JPMORGAN CHASE INVESTS $100,000 IN EMERGENCY AID TO LI VETS GROUP: United Veterans Beacon House averts crisis in sanitization, supplies, and support for its homeless shelters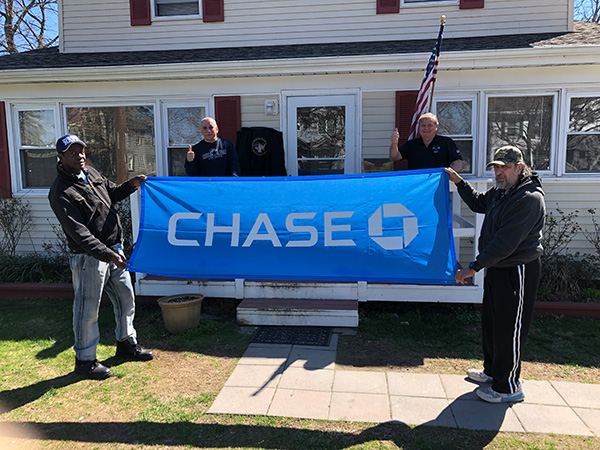 BAY SHORE, NY- Just three days after its appeal for emergency assistance, United Veterans Beacon House (UVBH) received the inspiring news that JPMorgan Chase would contribute $100,000 in immediate aid to help avert a Coronavirus-related crisis at its shelters for homeless veterans.
"We had a phone conversation with local JPMorgan Chase officials about the crisis facing our veterans, and three days later they called to tell us that the bank was coming through with emergency funding – $100,000. I'm still in shock," says UVBH president and CEO Frank Amalfitano. "The words 'Thank you' just seem so small."
The veterans' group is facing serious impacts – not only of supplies in its homeless shelters, like cleaning supplies and paper products — but also in staffing, food supplies, transportation to and from medical appointments, and other essential supports for the vulnerable population it serves.
Beacon House is establishing an emergency fund. The "Beacon House 'Brighten our Light' Emergency Fund for Veterans" is an appeal that will be unveiled on the uvbh.org web site this week. JPMorgan Chase is the marquis sponsor for the fund.
The bank's donation will enable Beacon House to address the immediate need for ongoing sanitization of Beacon House facilities, including its 47 residences, headquarters and food pantry, to address the new reality and sanitary standards of home and work environments.
"Let this serve as a shining example of how good-hearted people and a major corporation can nimbly and generously respond to those in need under the most difficult circumstances," says Mr. Amalfitano
About United Veterans Beacon House
Since 1994, United Veterans Beacon House (a 501 (C) 3 nonprofit) has provided a safe haven to Veterans and their families. Over 24,000 individuals have benefitted from housing and specialized support services to those in need. Providing a fresh start and an opportunity for growth to those who have bravely served our country, Beacon House manages 47 residential programs throughout Nassau and Suffolk counties. Services include health care, job training and placement, and assistance with linkage to well-earned financial benefits. The organization's mission is to help veterans regain their self-worth and empower them with the tools necessary to rejoin the community as independent and productive citizens. For more information, please visit www.uvbh.com.
About JPMorgan Chase & Co.
JPMorgan Chase & Co. (NYSE: JPM) is a leading global financial services firm with assets of $2.7 trillion and operations worldwide. The Firm is a leader in investment banking, financial services for consumers and small businesses, commercial banking, financial transaction processing, and asset management. A component of the Dow Jones Industrial Average, JPMorgan Chase & Co. serves millions of consumers in the United States and many of the world's most prominent corporate, institutional and government clients under its J.P. Morgan and Chase brands. Information about JPMorgan Chase & Co. is available at www.jpmorganchase.com.
Media Contacts:
Tina Sferrazza, United Veterans Beacon House
[email protected] ; 646.243.3240
Carolyn Evert, JPMorgan Chase
[email protected] ; 617.223.9224